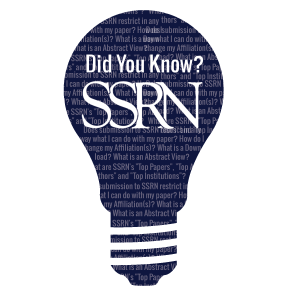 The mad dash to the end of the semester this month has resulted in me just barely posting the SSRN reading list before the month turns over to May. But this looks like a terrific group of papers from March. Three more papers on the major questions doctrine (of course), and also two papers from the forthcoming Notre Dame Law Review symposium on the history of the Administrative Procedure Act, including my contribution with my research assistant Scott MacGuidwin. There's a great paper on Myers and presidential power, on standing, on democracy in regulatory review, on judicial review preclusion, and another paper on tax exceptionalism. Lots of stuff for adlaw profs to be reading while we wait to grade final exams (or when we need a break from grading or are tempted to procrastinate!).
Here is the March 2023 Edition of the most-downloaded recent papers (those announced in the last 60 days) from SSRN's U.S. Administrative Law eJournal, which is edited by Bill Funk. 
For more on why SSRN and this eJournal are such terrific resources for administrative law scholars and practitioners, check out my first post on the subject here. You can check out the full rankings, updated daily, here.
Thanks to my terrific research assistant Neena Menon for helping put together this monthly post. I'll report back in May with the next edition.