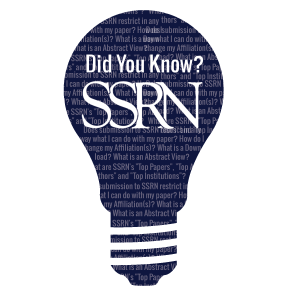 This month has been a busy one for me, with teaching classes again in Washington, D.C., numerous important activities happening within the ABA's Administrative Law Section, and the Supreme Court handing down a number of important administrative law decisions. In case you missed them, earlier this week I blogged about the Court's decisions in United States v. Arthrex and Collins v. Yellen here and here, respectively. Last month was also a great one for new administrative law papers being downloaded and read on SSRN.
Here is the May 2021 Edition of the most-downloaded recent papers (those announced in the last 60 days) from SSRN's U.S. Administrative Law eJournal, which is edited by Bill Funk:
Some Benefits and Costs of Cost-Benefit Analysis by Cass R. Sunstein (150(3) Daedalus: The Journal of the American Academy of Arts & Sciences 208 (2021)) [CJW Note: This is Sunstein's contribution to Mark Tushnet's special issue of Daedalus on the future of the administrative state, which I blogged about here. My contribution is entitled Constraining Bureaucracy Beyond Judicial Review, and is available here. The full issue is available here.]
May the Executive Branch Forgive Student Loan Debt Without Further Congressional Action? by Colin Mark (Harvard Law School Briefing Papers Series on Federal Budget Policy, Howell E. Jackson supervising)
Government Activism in Bankruptcy by Jared A. Ellias & George G. Triantis (36 Emory Bankruptcy Developments Journal 510 (2021))
Regulation and Redistribution with Lives in the Balance by Daniel J. Hemel (University of Chicago Law Review forthcoming)
Administrative Law in the Automated State by Cary Coglianese (150(3) Daedalus: The Journal of the American Academy of Arts & Sciences 104 (2021))
Decoding Nondelegation After Gundy: What the Experience in State Courts Tells Us About What to Expect When We're Expecting by Daniel Walters (Emory Law Journal forthcoming)
Subordination and Separation of Powers by Matthew Lawrence (Yale Law Journal forthcoming)
Super Deference and Heightened Scrutiny (or When Super Deference Is Not So Super) by Jonathan H. Adler (Florida Law Review forthcoming)
Structural Deregulation by Jody Freeman & Sharon Jacobs (Harvard Law Review forthcoming)
For more on why SSRN and this eJournal are such terrific resources for administrative law scholars and practitioners, check out my first post on the subject here. You can check out the full rankings, updated daily, here. Thanks to my terrific research assistant Shea Daley for helping put together this monthly post. I'll report back in July with the next edition.