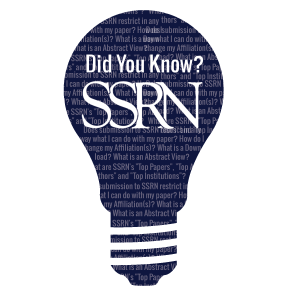 Perhaps unsurprisingly, the major questions doctrine (MQD) is trending in administrative law scholarship with six of the top-ten most-downloaded papers in October focused on the subject. I expect even more to come, and Beau Bauman will no doubt need to update his super-helpful MQD reading list in the new year.
On a personal note, it's great to see in print our final report for the Administrative Conference of the United States on precedential decision making in agency adjudication. Melissa Wasserman, Matt Wiener, and I spent so many hours studying and interviewing agency officials at some twenty agency adjudication systems to identify best practices and common challenges in precedential decision making across the federal administrative judiciary. On Thursday, the Administrative Conference will consider our recommendations at its plenary session.
Here is the November 2022 Edition of the most-downloaded recent papers (those announced in the last 60 days) from SSRN's U.S. Administrative Law eJournal, which is edited by Bill Funk.
For more on why SSRN and this eJournal are such terrific resources for administrative law scholars and practitioners, check out my first post on the subject here. You can check out the full rankings, updated daily, here.
Thanks to my terrific research assistant Neena Menon for helping put together this monthly post. I'll report back in January with the next edition.