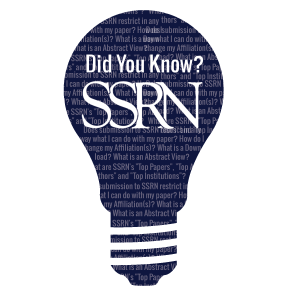 The move from Ohio State to U Michigan this summer put the SSRN reading list series on hold. Now that things have settled down, the monthly post is back. And this month's reading list coincidentally has a University of Michigan Law School theme to it, with papers by my colleagues Leah Litman, Dan Deacon, Julian Mortenson, and Nick Bagley, along with a great paper on the major questions doctrine that is forthcoming in the Michigan Law Review.
Here is the August 2022 Edition of the most-downloaded recent papers (those announced in the last 60 days) from SSRN's U.S. Administrative Law eJournal, which is edited by Bill Funk.
For more on why SSRN and this eJournal are such terrific resources for administrative law scholars and practitioners, check out my first post on the subject here. You can check out the full rankings, updated daily, here.
Thanks to my terrific research assistant Neena Menon for helping put together this monthly post. I'll report back in October with the next edition.