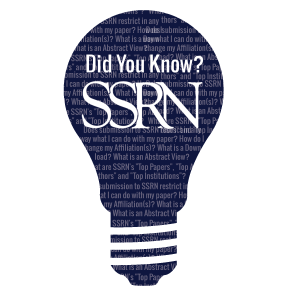 As I mentioned last week on Twitter, this summer I'll be leaving Ohio State after ten wonderful years, to join the law faculty at The School Up North. I'm going to miss my colleagues and students here so much. But I'm also very excited about this next chapter. While my blogging activity has waned during the last couple months, I look forward to blogging more regularly after finals, especially with a number of important administrative law decisions to be handed down by the Supreme Court later this Term.
Over the last couple months, however, we have seen quite a few terrific new administrative law papers posted to SSRN—many more than the ten listed below. But this top-ten list is an extraordinary collection of recent administrative law scholarship. Here is the March 2022 Edition of the most-downloaded recent papers (those announced in the last 60 days) from SSRN's U.S. Administrative Law eJournal, which is edited by Bill Funk.
For more on why SSRN and this eJournal are such terrific resources for administrative law scholars and practitioners, check out my first post on the subject here. You can check out the full rankings, updated daily, here.
Thanks to my terrific research assistant Shea Daley for helping put together this monthly post. I'll report back in May with the next edition.